Latest Technology
Alter G?
What is Alter G?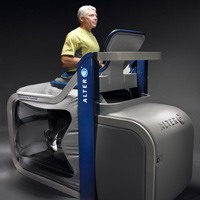 The innovative AlterG® Anti-Gravity Treadmill is a game changer in physical therapy rehabilitation. Developed using NASA technology, the AlterG uses air pressure to gently lift the user making it less stressful on joints & injuries thereby aiding faster recovery
How does it work?
The AlterG® calibrates the users' body weight and then inflates an airtight chamber to allow the patient to exercise at a specific percentage of their body weight.
By decreasing the weight and ground reaction force, patients can rehabilitate while reducing the risk of further injury, which facilitates faster healing.
Who can use it?
Patients of all ages and fitness levels can benefit from this unique & innovative treadmill.
It is suitable for recovery after a wide variety of spinal and lower limb surgical procedures. It gives patients the confidence and ability to run or walk longer and heal faster with less pain.
Also ideal for patients not suitable for hydrotherapy.
Now available at our Bella Vista rooms, please contact us to discuss if the AlterG is right for you.
Mazor Robot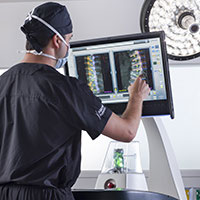 Utilizing Mazor Robotics Renaissance® Guidance System in a spine program can improve the execution and outcomes in a wide variety of procedures, including: minimally-invasive and percutaneous degenerative repair, pedicle screw fixation for complex spinal deformity, and vertebral augmentation.
Renaissance® provides increased safety and precision in corrective surgery. It allows surgeons to plan ahead before entering the operating room; Mazor Robotics advanced 3D planning software is used before surgery to create the ideal procedure for each patient's condition. During the operation, the physician does the actual work; Renaissance® guides the surgeon's tools according to the predetermined blueprint to place the implants safely and with the highest level of accuracy in the exact planned locations.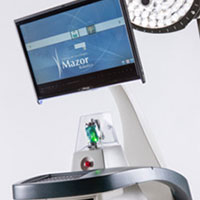 Promotes Faster Recovery
Patients who have surgery performed with the Renaissance® Guidance System can experience faster recovery time, allowing them to return to their normal daily activities in less time than those who received surgeries via traditional methods.
Reduced Post-operative Pain
Clinical studies have shown patients may experience less pain following spine procedures performed with the assistance of the Renaissance® Guidance System.
Lowered Complication Rates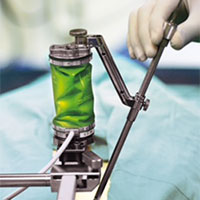 Clinical studies based on surgeries performed with the Mazor Robotics Renaissance® Guidance System have shown increased favourable patient outcomes, including lowered surgery complication rates.
Please discuss with Dr Hsu if the Mazor Robot can be used for your surgery.
You will need the Adobe Reader to view and print these documents.