Dr Bhisham Singh MBBS MS FRCS (Eng) FRACS
Orthopaedic & Spine Surgeon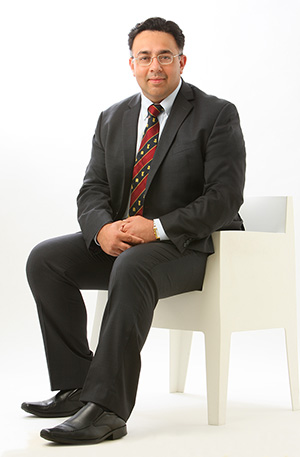 Dr Bhisham Singh is an orthopaedic surgeon with a special interest in spine surgery. He is experienced in treating cervical, thoracic and lumbar spine issues as well as orthopaedic conditions. Dr Singh completed his medical degree in 1996 and his orthopaedic
training in 2001 from the University of Mumbai. Following this, Dr Singh underwent specialised training in paediatric orthopaedics and spine surgery before moving to the United Kingdom and successfully achieved the fellowship of the Royal College of Surgeons
of England (FRCSE) in 2009. Dr Singh and his family moved to Sydney in 2011 where he completed two prestigious year-long AOA- accredited fellowships: the first in paediatric spine and deformity at the Children's Hospital at Westmead and the second in
adult spine surgery, deformity and trauma at Royal North Shore Hospital. He qualified as a Fellow of the Royal Australasian College of Surgeons (FRACS) in 2015. Dr Singh's philosophy is that all treatment should be in the patient's best interest and be
based on the latest scientific evidence. Please visit www.drbhishamsingh.org to know more about Dr Bhisham Singh.
Dr Bhisham Singh, orthopaedic surgeon, talks back pain treatment and prevention with Ed Phillips on Better Living.
Dr Bhisham Singh – Orthopaedic & Spine Surgeon
Norwest
Suite 205
10 Century Circuit
Norwest NSW 2153
Campbelltown
Building A/Level 3, Suite 314
4 Hyde Parade
Campbelltown NSW 2560
Liverpool
South West Sydney Orthopaedics
2/171 Bigge Street
Liverpool NSW 2170
Penrith
OnePoint Health
510-536 High Street
Penrith NSW 2750
Macquarie University Hospital
Suite 201, Level 2
2 Technology Place
Macquarie University NSW 2109
Taree
Mayo Health Care Centre
Physiotherapy Building, 2 Potoroo Drive
Taree NSW 2430
Bowral
21 St
Jude Street
Bowral NSW 2576

1300 975 800

(02) 9136 7396
Provider No:
NW-440044JB Pen-440044TW Liv- 440044FW Cam- 440044KL MacU-440044AK Tar-440044MK