Dr Brian Hsu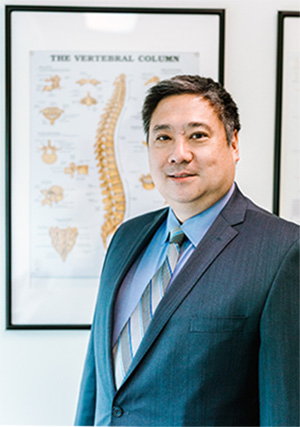 Adult & Paediatric Spine Surgeon
Dr Hsu is an Adult and Paediatric Spine Surgeon in Sydney.
Dr Hsu received his
medical degree from the University of Sydney,
before obtaining his qualifications as an Orthopaedic
Surgeon in New South Wales.
Dr Hsu worked and trained at two world-renowned
institutions, UCSF, San Francisco, California and
Twin Cities Spine Center Minneapolis, Minnesota
and is currently practising at NSW Spine Specialists.
Dr Hsu's areas of interest lie in all aspects of spine
surgery and spinal disorders, in particular, adult
and paediatric spine deformity, complex cervical
reconstructions, spinal osteotomies and
degenerative cervical and lumbar conditions.
Dr Hsu has a genuine interest in education and
research and is a participant in global spinal
organisations. He is an active member of the
Scoliosis Research Society (SRS), North American
Spine Society (NASS), the American Academy of
Orthopaedic Surgeons (AAOS) and a delegate
member of AO Spine. He is a member of the Society
of Minimally Invasive Spine Surgery (SMISS) and a
Fellow of the Hong Kong Academy of Medicine
(FHKAM).
Dr Hsu has given numerous presentations at both
national and international meetings and is published
in the journal Spine, an international journal for the
study of the spine and has written several book
chapters.
Dr Hsu is fluent in English and Chinese (Cantonese).
Dr Hsu's goal is to educate and inform patients about
their spinal condition and help them to make
important decisions regarding their treatment options.
Dr Brian Hsu
Norwest
Suite 205
10 Century Circuit
Norwest NSW 2153
Chatswood
Orthopaedic & Arthritis Specialist Centre
Level 2, 445 Victoria Avenue
Chatswood NSW 2067
Macquarie University Hospital
Suite 402A, Level 4
2 Technology Place
Macquarie University NSW 2109
Northern Beaches Hospital
Suite 15, Level 7
105 Frenchs Forest Road W
Frenchs Forest NSW 2086
Sydney Olympic Park
6 Figtree Drive
Sydney Olympic Park NSW 2127
Taree
Mayo Physiotherapy Building
2 Potoroo Drive
Taree NSW 2430

1300 975 800

(02) 9136 7396