Payment Plans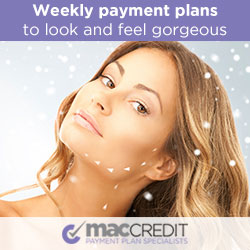 Specifically designed for clients having Medical & Cosmetic treatments
Payment plans from $4,000
No stress – MacCredit consultants manage the whole process
Up to 7 year terms – based on your requirements and objectives
Flexible options – any additional repayments can be added back at no extra charge
Fast efficient approvals, simply apply online or call 1300 884 355
Available to Australian citizens or permanent residents only
Credit assessment, lending criteria, terms and conditions apply
To apply click here
Credit Representative 484002 is authorised under Australian Credit licence 389087.
Terms & Conditions:
Speak to MacCredit for a formal quote based on your circumstances and for the full terms and conditions.
A credit assessment will be conducted prior to acceptance of any offer or product. Interest rates, terms and conditions will be provided on application. Fees and charges apply.